Description
In the real world, choices and decisions come thick and fast. There's rarely enough time to research and analyse a proposition as thoroughly as you would like. The LEADr Diploma in Commerciality is an advanced course that covers the fundamentals of business as well as delving much deeper into more advanced cases and learning objectives relevant to making decisions in the business world.
The unique and key concept behind the philosophy of the diploma is the 54:70 Success Matrix™. The core curriculum recognises that an individual should have both the skills and the experience to be successful. Having strong theory but no experience or knowledge will not be sufficient and equally being "business-savvy" but lacking key theoretical skills will also have a negative impact on potential business success.
The unique methodology picks out the essentials of competitive and commercial strategy, links them with financial, organisational and people assessments and applies them to "go/no go decisions", with the participant's own money (don't worry, it's virtual!).
Learn, practice and apply our simple and powerful business analysis methodology.
This course is the only training programme delivered online that gives learners both the skills and experience using a unique concept of simulation based learning, giving real life examples using role play to build practical skills through a Experiential Learning Environment. The material is underpinned by a research programme at the University of Hertfordshire as well as teaching at University of Cambridge and is based on core competency models within top global corporates.
Key Learning Points
The course utilises the 54:70 Success Matrix™ which is an invaluable concept for individuals to find the perfect balance between skills and experience. It allows students to make success a consistent, tangible result of business. The course delivers both skills and experience using the application of Experiential Learning and Experiential Profiling, engaging the students in practising and developing the key skills and knowledge of business.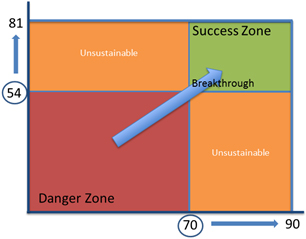 To introduce students to the 54:70 Success Matrix™ and the main 9 Key Personal skills for success.
To understand the importance of business acumen and how to quantify and develop it to be successful.
Learn a powerful methodology to understand what makes a business and a business person successful.
To understand how to analyse a business and make good decisions.
To understand the link between commerciality and successful corporate leaders & decision makers.
To reflect on key strengths as well as areas for improvement and plan for further development.
To develop proficiency in applying the methodology in the workplace to assess any businesses (external or internal) and identify opportunities.
Throughout the course you will work on developing fundamental skills and experience in line with the 54:70 Success Matrix™:
The 54 – The 9 Skills for Personal Success:
Self-awareness
Problem solving
Enterprising
Team player
Business Astuteness
Decision Judgement
Communication
Technology appreciation
Self-management
The 70 – the 10 Factors for Business Success:
Market Size
Market Growth
Market Profitability
E.g. Design
E.g. Price
E.g. Sales
E.g. Marketing
Company Financials
Entrepreneurs Characteristics
Deal Dynamics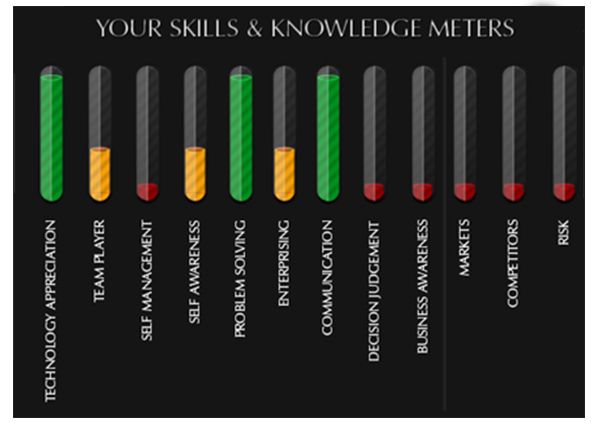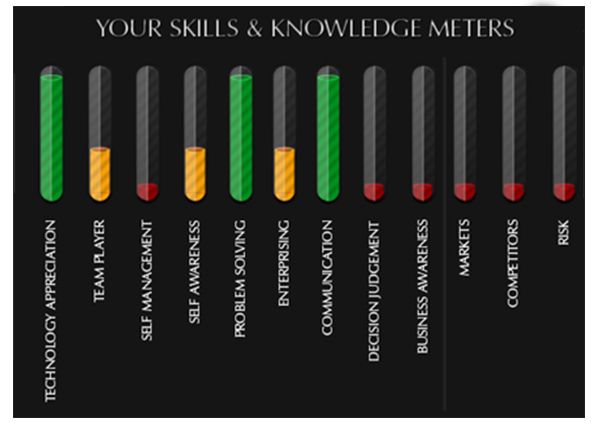 Based on the 54:70 Success Matrix&trade, this meter shows the development skills.
Certificate received once programme is passed.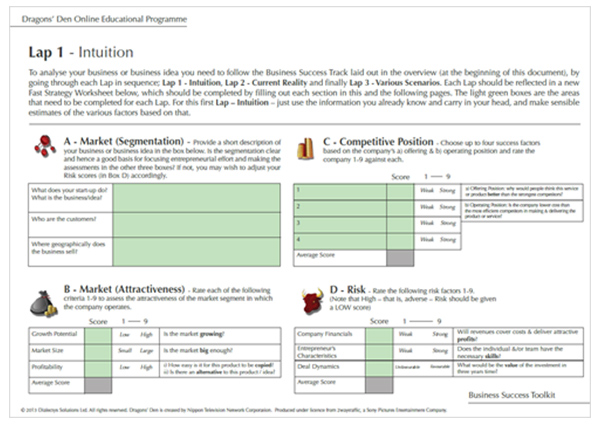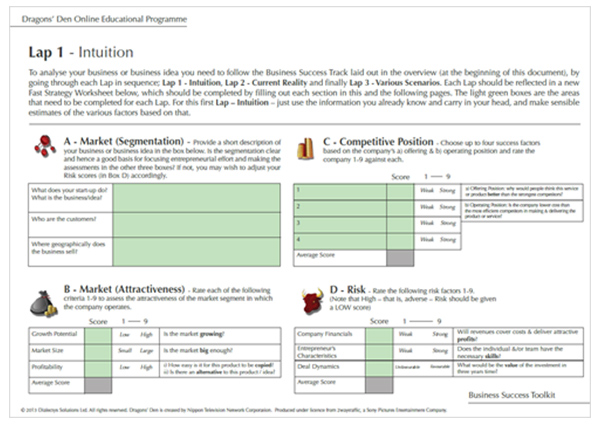 The Business Assessment Toolkit
Advantages of the course
Online Leaderboards show the performance based on your Return on Investment against the model answer and an overall combination.
A comprehensive feedback report shows your current level of business acumen, both as an individual and as a team (only if team licence is purchased), and a description of how you can improve your skills further moving forwards, benchmarked against cohort average and compared to industry standards.
CPD Certification upon completion.
24 hour access to the course content for 12 months.
24 hour, Monday to Friday support.
Introduction
An immersive introduction to the programmes key areas of study and the programme outcomes
Gain an introduction to the importance of business acumen and how to develop it
Introduction to a powerful methodology that teaches you to analyse any business as well as applying it to your own
Level 4 – Reflective Diagnostic & Personal E-Portfolio
Gain an introduction to a methodology that teaches you to analyse any business as well as your own
Analyse real world Dragons' Den case studies at an intermediate level
Understand your own strengths and weaknesses
Assess your business awareness
Measure your 9 Key Skills and receive a downloadable Personal Diagnostic
Reflect on your results and create a personal development plan using your E-Portfolio
Level 5 – Advanced E-Academy & Learning
Segmentation
What is a market segment?
The three key questions when defining a market
Learn why segmentation is so important
The three key points to remember about segmentation
Markets
Learn that market attractiveness depends on its size, growth and profitability
Understand how to use data and tools like PESTLE to help you assess the size and growth potential of your market
Learn how to use competitive intensity to assess the profitability of your market
The four key points to remember about markets
Competitors
Understand that there are two ways to beat the competition
Learn that comparing against competitors involves assessing the offering position (doing it better) and the operating position (doing it at lower cost)
Study how Apple excels in both its offering position and operating position
The four key points to learn about strategy
Risk
The three aspects of business performance and risk when investing
The four elements of the cash cycle
Understand the different routes for raising finance
Study the break-even point for a business
Learn about the importance of cash flow
Understand about company financial statements
Sense check the commercial viability of an investment opportunity and evaluate the deal dynamics
Learn the importance of people factors in the success of businesses
Level 6 – Advanced Cases and Exam
Use the work you have completed from level 5 to analyse advanced case studies
The case studies include additional due diligence and challenges
Put all of the work you have learnt into a final exam to pass the programme
Application
Continue to develop your 9 Key Skills by using your Personal E-Portfolio to track and share your development
Apply the methodology you have learnt to your own business idea to measure likely success
Measure yourself on the 54:70 Success Matrix™
Use a step by step toolkit to analyse strengths and weaknesses, spot opportunities and create an action plan to ensure strategic success!